Every parent wants their child to

lead

a happy, healthy and active youth. There is no better way to achieve this than to introduce your child to nippers and surf lifesaving.
Membership fees Season 2020/2021 (no increase) NB these fees are for New Members to our Club.
Nipper $35 + parent/guardian $60
Cadet active patrolling under 18 $35
Active patrolling member 18+ $55
Family membership $150
If you are a returning member from Season 2019 - cut short by fires, covid etc, SLS NSW have granted our club funds to assist with Membership renewals;
Nippers $35 + Parent/ Guardian $50 = $85
Family Membership $130
Active Lifesavers $25
Click here to open the registration form in a new window. Click here to open a copy of the 2020/21 Nippers Handbook in a new window.

Nippers is a junior program that introduces children aged 5 to 13 to surf lifesaving. The Nippers Surf Education Program is a fun outdoors activity that grows a child's confidence, teaches valuable life skills and knowledge. The youth of today are the future of Surf Life Saving, and the Nippers pathway teaches lessons and skills allowing them to continue in lifesaving and sport as they grow older.
This National program is structured specifically to their age and ability gradually teaching kids the basic lifesaving skills required to be safe around an aquatic environment as well as developing their skills to compete in surf sports.
As the Nippers program is designed to learn about lifesaving skills and safety around the beach, we strongly encourage all parents of children with limited swimming ability to enroll them in swimming lessons first. Upon registering your child with a Life Saving Club Nipper program, they will be required to pass a set of evaluation skills including a swimming assessment.
Parent Help
To make sure that our Nipper program can run successfully it is important that parents get involved and put their hands up to offer assistance. A successful Nippers program is only possible with the support of parents and volunteers. Parents can get involved by becoming Age Managers or assisting in other areas of the Nippers program. Age Managers courses are available, which educate parents and volunteers on Nipper beach and water activities. Some parents also become involved by gaining their Surf Bronze Award and volunteering as water safety personnel, or by manning the IRB.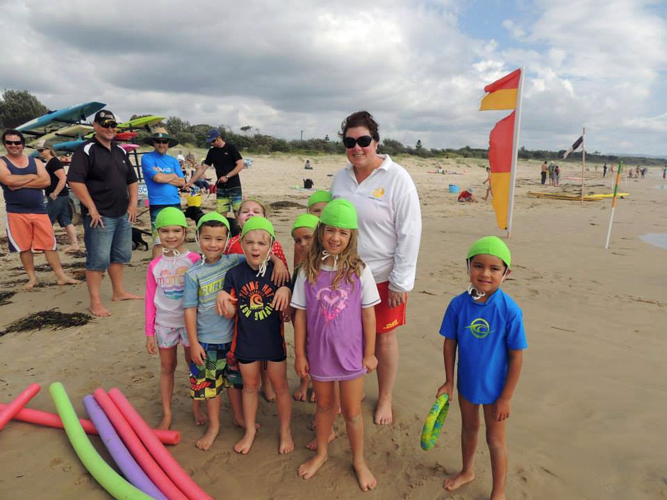 Age Groups
The minimum age for children to participate in Junior Activities is 5 years (U/6) up to a maximum age of 13 years (U/14) on a seasonal basis (age for a season is determined as at midnight on 30 September at the commencement of that season).
A child cannot be involved in a Nippers program until they turn 5 years old (e.g. if a child turns 5 on 1 November, they cannot join in or partake in any activities until 1 November)
But it's not hard work. We like to call it serious fun! Nippers is a great way for children to make friends, be active and enjoy the beach in a safe environment.